MORTON'S MOO RETAIL SHOP & ONLINE STORE
ARE NOW CLOSED FOR THE SEASON.
THANK YOU FOR ANOTHER AMAZING SUMMER!
WE LOOK FORWARD TO SEEING YOU IN
SPRING OF 2023!
(but if you can't wait for spring.... ;)
You can find Morton's Moo ice cream at these area shops and restaurants.

​Order online, call 266-9671, or email mortonsmoo@gmail.com
Full menu available during shop hours with outdoor seating on our picnic tables & covered porch!
All your old favorites PLUS many new items!
WE NOW OFFER DELICIOUS, CREAMY, PREMIUM SOFT SERVE!
COME IN AND TRY OUR EXPANDED SELECTION OF HOMEMADE BAKED GOODS!
MORTON'S MOO, 9 SCHOOL ST. ELLSWORTH"Let be be finale of seem,
The only emperor is the emperor of ice cream."
-- Wallace Stevens
*CUSTOM ICE CREAM CAKES MUST BE ORDERED 36 HOURS IN ADVANCE.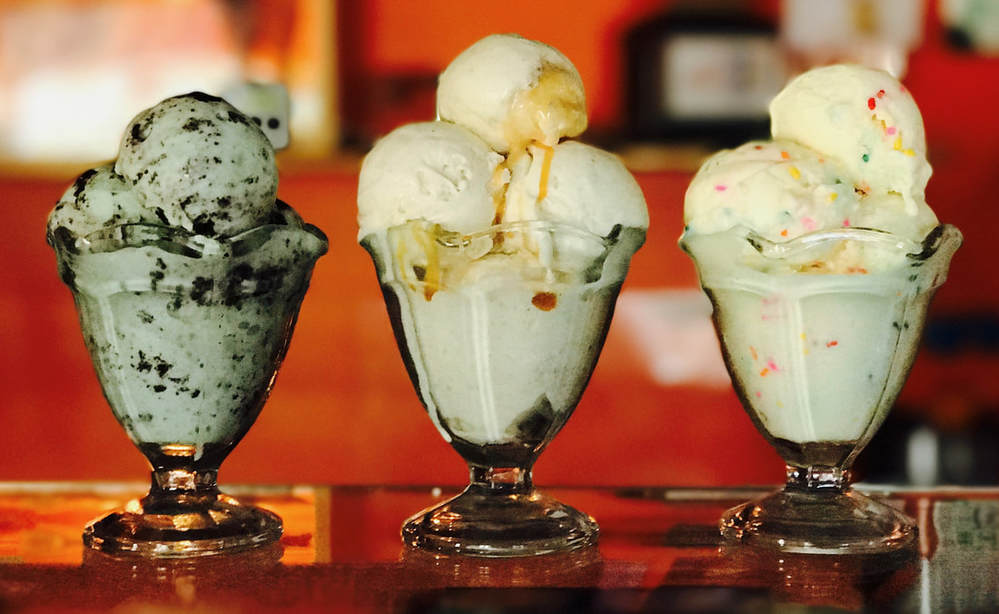 In 2003, Morton's Moo began making artisan ice cream, gelato and sorbet in our vintage store in Downeast Maine, the gateway to Acadia National Park. Our super-premium ice cream is hand-crafted in small batches and features classic flavors with a Maine twist, using local ingredients whenever possible. All of our milk and cream comes from Maine and is free of growth hormones. Follow us on Facebook, Twitter and Instagram and be sure to visit us in Ellsworth to find out why the locals always say, "Meet me at The Moo!" Voted BEST ICE CREAM in Downeast Maine! You can also find Morton's Moo Ice Cream for sale at these Maine stores and restaurants. What our customers say: "Calling this place an 'awesome ice cream store' doesn't do it justice! 'Interplanetary Hub of Fantastic Edible Art' comes closer, but still falls a little short." "A unique and enjoyable experience for kids from 1 to 101!"Stay Upstairs at the Moo
Want to be near your favorite ice cream? Rent one of our cozy one- or two-bedroom upstairs apartments. Private entrances, self-catered. Great year-round options for a long weekend or hiking holiday. Where It All HappensWe make all our ice cream and other treats at 9 School Street in downtown Ellsworth, just off Main Street. Plenty of free parking!


​
MORTON'S MOO HOMEMADE ICE CREAM
9 SCHOOL STREET, ELLSWORTH, MAINE 04605
(207) 266 - 9671
mortonsmoo@gmail.com