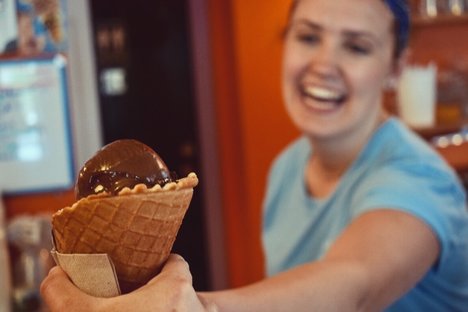 In 2003, Morton's Moo began making artisan ice cream, gelato and sorbet
in our vintage store in Downeast Maine, at the gateway to Acadia National Park.
Our super-premium ice cream is hand-crafted in small batches and features classic flavors with a Maine twist, using local ingredients whenever possible. All of our milk and cream comes from Maine and is free of growth hormones. Follow us on Facebook, Twitter and Instagram and be sure to visit our store in Ellsworth to find out why the locals always say,
'Meet me at The Moo!
LOOK FOR MORTON'S MOO QUARTS IN LOCAL GROCERY STORES!
Voted BEST ICE CREAM in Downeast Maine!
*WE ACCEPT VISA, MASTERCARD, DISCOVER, AMEX, AND APPLE PAY*


50% OFF SALE WILL BE ON SATURDAY DECEMBER 28 from 10am - 5pm or until all the ice cream is gone

ALL ICE CREAM, NOVELTIES, & BAKED GOODS ARE 50% OFF AND
EVERYTHING MUST GO!!
(Excludes gift cards, merchandise, & wholesale quarts)

We will reopen on Friday May 1st, 2020!

WE ALSO FEATURE:
*Fresh, Homemade Waffle Cones - Regular, chocolate or gluten free*
*Sundaes - Hot Fudge, Caramel, Strawberry, Brownie or gluten-free brownie*
*Milkshakes - Thick & creamy in any flavor, or try one of our Specialty Shakes!*
* Locally-roasted Organic Fair Trade Coffee & Espresso - for hot and iced drinks*
*Made in Maine Capt'n Eli's Sodas and Root Beer - try a Root Beer Float!*
*Ice Cream Sandwiches, Whoopie Pies and other delicious baked goods*
*A selection of Ice Cream Cakes always available or specially made to order*
*Friendly, allergen-aware staff*

Call any time to order Ice Cream Cakes! (207) 266 - 9671

What one customer says about us:
"Calling this place an 'awesome ice cream store' doesn't do it justice! 'Interplanetary Hub of Fantastic Edible Art' comes closer, but still falls a little short."

​A unique and enjoyable experience for kids
ages 1 to 101!

We are located at 9 School Street in downtown Ellsworth, just off Main Street behind Flexit Cafe.

!PLENTY OF FREE PARKING!


MORTON'S MOO HOMEMADE ICE CREAM
9 SCHOOL STREET, ELLSWORTH, MAINE 04605
(207) 266 - 9671
mortonsmoo@gmail.com